SJ-FTTH-SK-18 24 fibers, 3 X 1:8 Splitters Outdoor Optic Distribution Box
Description: SJ-FTTH-SK-18 Fiber Optic Distribution Box is able to hold up to 24 subscribers and 96 splicing points as closure. it is used as a splicing closure and a termination point for the feeder cable to connect with drop cable in FTTX network system. It integrates fiber splicing, splitting, distribution, storage and cable connection in one solid protection box.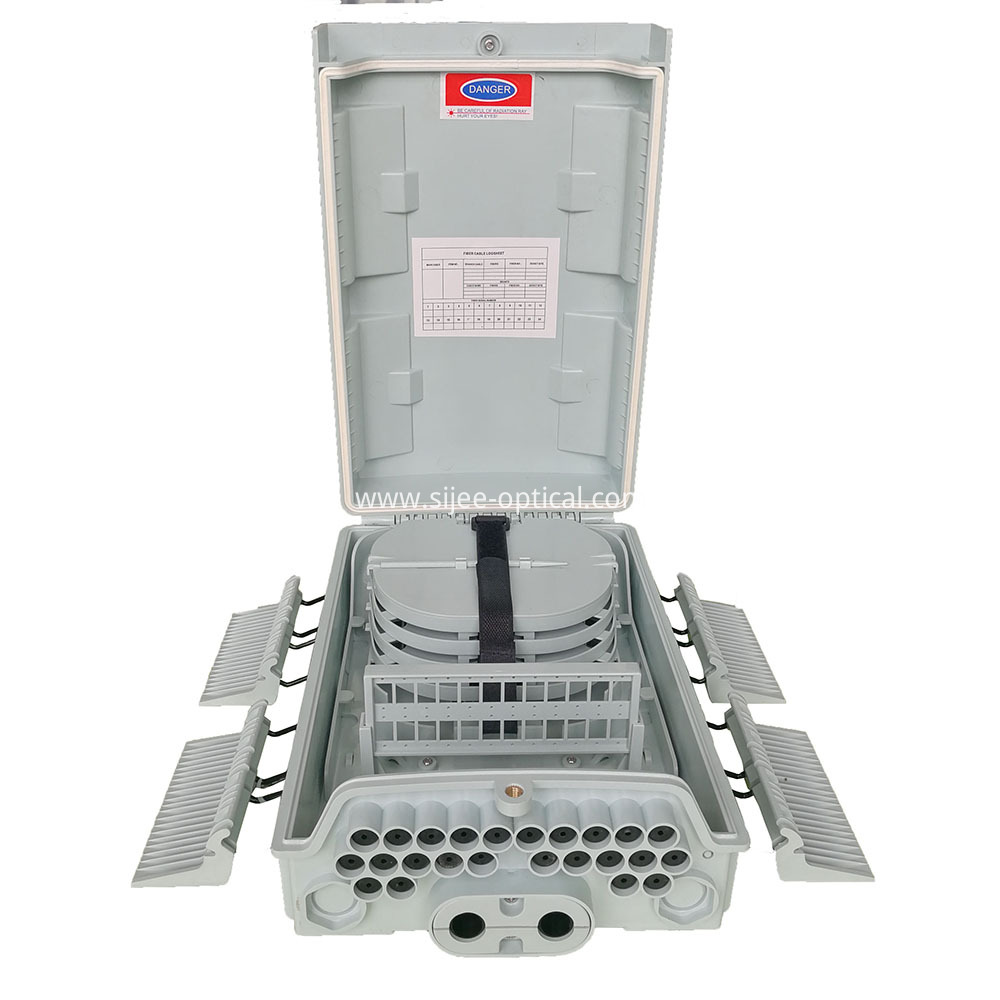 Specification:
Model NO.:SJ-FTTH-SK-18
Dimension mm:340X210X95
Capacity:Splice 96 Fibers (4trays, 24 fiber/tray),24 Adapters, 3 X 1:8 Splitters
Weight:2.0KGS
Impact Test:IK10
Pull Force:100N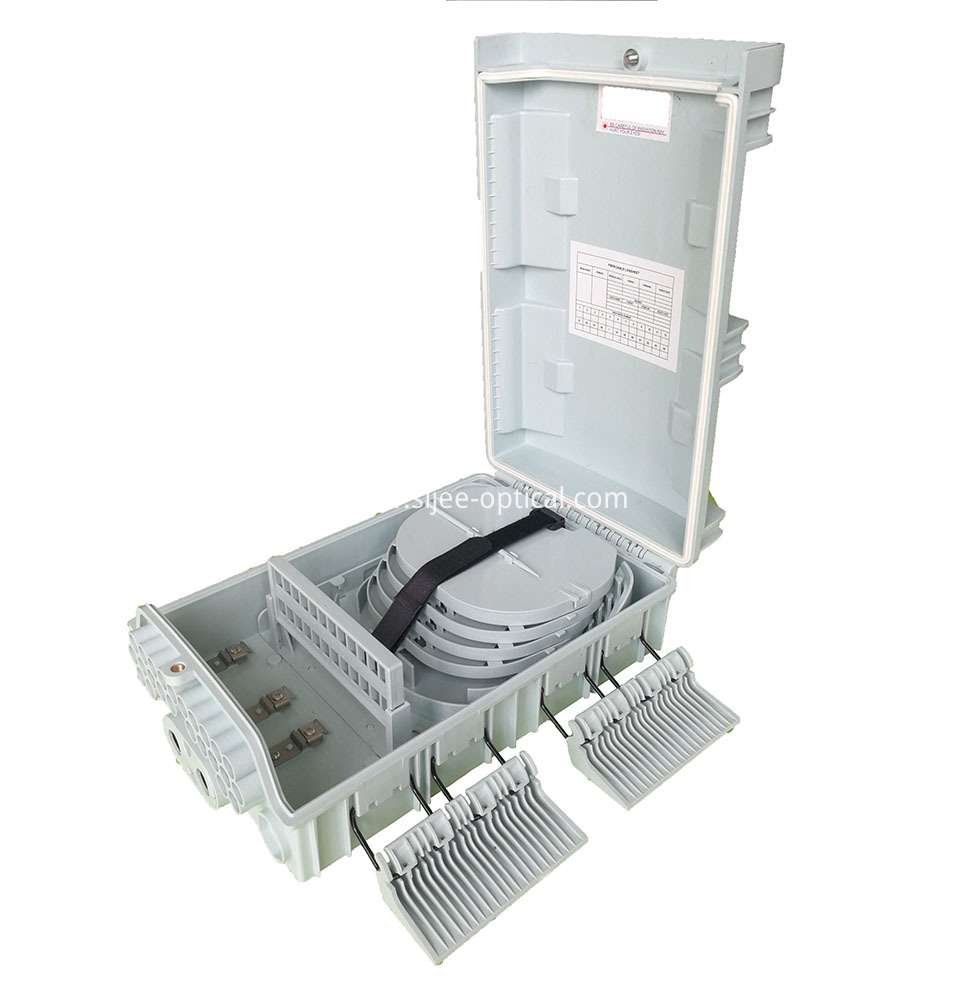 Applications:
·Wall mounting and pole mounting installation
·FTTH pre-installation and filed installation
·2*3mm indoor FTTH drop cable and outdoor figure-8FTTH self-supporting drop cable
·Protection Rating IP-65. Moisture-proof, anti-aging.
·Integrated with flap-up splice cassette and adaptor holder
·All stainless metal plate and anti-rusting bolts, nuts
·Fiber bend radius control more than 40mm
·Suitable for the fusion splicer or mechanical splice
·3Pcs of 1*8 Splitter can be installed as an option
·Mechanical sealing structure and mid-span cable entry.
·24 ports cable entrance for drop cable
·24 adapter for drop cable patching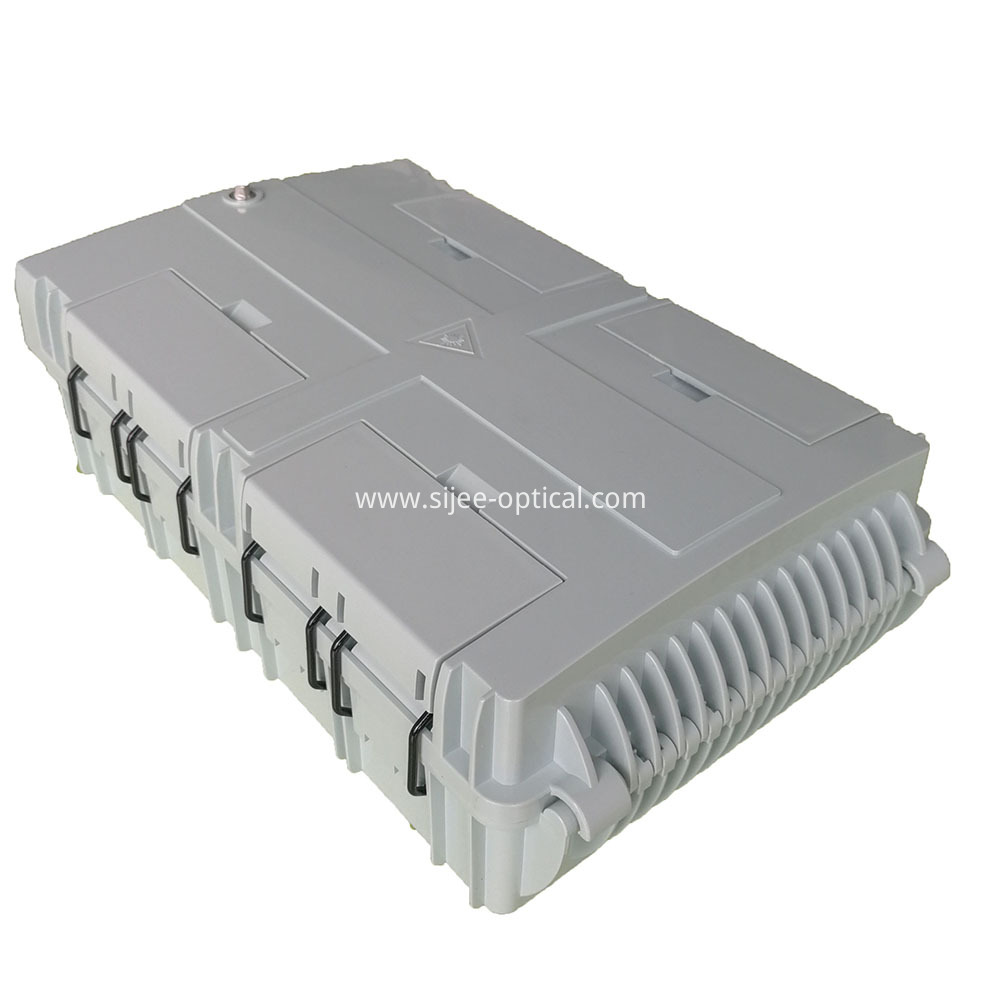 Environmental requirement
Working temperature: -40℃~+85℃
Relative humidity: ≤85% (+30℃)
Atmospheric pressure: 70KPa~106Kpa
Thunder-proof technical data sheet
The insulation resistance between the grounding device and the metal parts of the box is no less than 2MΩ/500V (DC); IR≥2MΩ/500V.
The voltage resistance between the grounding device, and the box and its metal parts is no less than 3000V (DC)/min, no puncture, no flashover; U≥3000V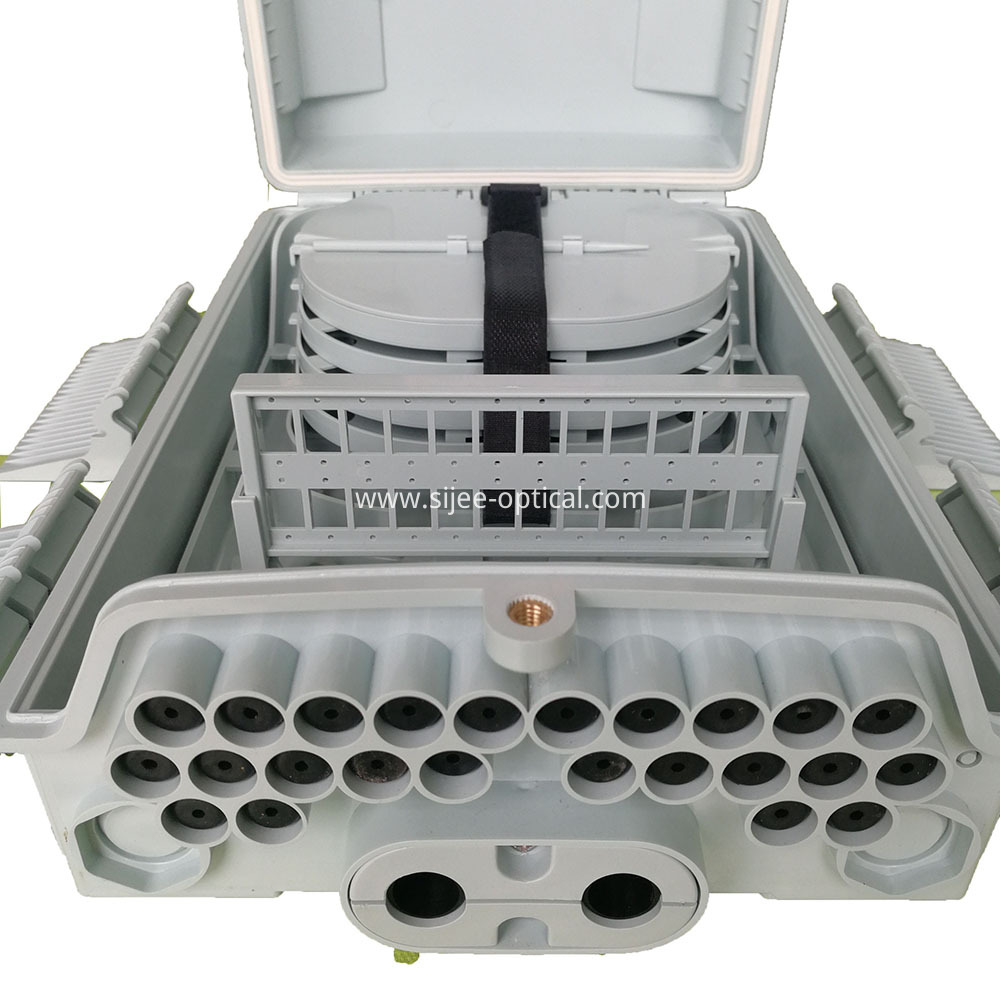 Features:
1. Total enclosed structure.
2. Material: PC+ABS, wet-proof, water-proof, dust-proof, anti-aging, protection level up to IP65.
3. Clamping for feeder cable and drop cable, fiber splicing, fixation, storage, distribution...etc all in one.
4. Cable, pigtails, and patch cords are running through their own paths without disturbing each other, easy maintenance.
5. Distribution panel can be flipped up, feeder cable can be placed by expression port, easy for maintenance and installation.
6. Box can be installed by the way of wall-mounted or poled-mounted, suitable for both indoor and outdoor use.
Easy operation and installation
Rotatable and dis-mountable splice tray for easy splicing
Standard Accessories---Splice cassette and cable management tool, installation nuts and bolts, protection sleeves hose clamp, cable tube, wrench, cover, holder, rubber seal for cable entrance